For some businesses, implementing automated AML software for the first time can be a daunting task. However, it doesn't have to be overwhelming if you approach it step-by-step.
Automate your transaction monitoring one step at a time
If you want to run an efficient and effective AML programme, transitioning to an automated system is a no-brainer. For a smooth changeover, we recommend you:
Investigate how automation can help your business

Develop a good idea of how long it will take to implement a new system and how you can prepare

Compare the level of implementation support different vendors offer
Start simple and get started
What's the financial crime risk for your business? The first step is to carry out a business wide risk assessment.
Keep working on it and make sure it's still working for you
Implementing an automated AML programme is an important first step in the fight against financial crime, but it's not a set and forget system.
To protect your business and community from financial crime, you'll need to adjust your system over time to ensure it keeps working for you in a changing world.
Preparing for Automation
Here's a breakdown of a typical implementation process for automating your Transaction Monitoring.

1. Plan and evaluate
Do your research on vendors and choose a flexible system, one that can handle law changes over time. Look for a partner that understands your industry, including the types of services you provide, how regulatory obligations affect your business, and your risks and operational challenges. It's important to choose a vendor that's receptive to feedback and offers ongoing support (such as install and set-up, training, updates) to help you achieve and maintain compliance.
2. Prepare
Scope your AML project and get buy-in from your business as well as IT support. For a successful implementation you'll need key stakeholders on board and everyone in lockstep.
3. Import data
Data quality is key. Without good data you won't be able to detect money laundering or you will create too many false positives. We recommend you tidy up your data before you implement a new system.
4. Set up rules
When you set up your rules, consider the risks you have identified in your own business wide risk assessment. This will help you determine which rules you need. Sometimes less is more, so don't run rules you don't need.
5. Test and go live
Take time to test your rules properly before you go live. We recommend a practice go live session where you run live data through your test system.
6. Optimise
Train your staff to use the system properly. There's no point just buying an AML product. You need to set it up so it works for your business and tweak it over time.


Top tips from our team
Just implementing an automated AML system isn't enough. You need to get your AML programme to work for you. For example, at Jade ThirdEye, people often ask us if we have rules. We have an extensive rules library for you to pick and choose rules from. But you'll get more out of the system if you first scope out your risk profile and then choose the rules you need. Jade ThirdEye also lets you edit your rules and create new ones over time, which means you get a system that fits your business needs.
Because rules are the backbone of a transaction monitoring system, it's important to review your rules often to make sure they're working optimally for your business. The beauty of a flexible system like Jade ThirdEye is that you can fine-tune it over time to make sure it fits your risk profile and responds to global economic changes. It's also vital to have a system that can respond to the increasing complexity of transaction monitoring.

Having local 24/7 support available from your vendor is critical. At Jade ThirdEye we continually evolve to meet industry and legal requirements and have highly experienced support and implementation teams.

To implement an automated AML system smoothly and successfully, you need engagement from everyone who will be involved with the project – Senior management, IT, and compliance officers.
Implementing an AML solution can be complex and may require the expertise of a compliance professional. If you're unsure where to start, book a meeting with our team today to learn how evolve your AML compliance and fight financial crime with simple, efficient, cost-effective automation.
Get in touch with us!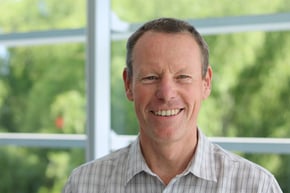 Colin Dixon
Colin has been working on Jade ThirdEye for over 10 years and has helped scores of organisations across Australia, New Zealand and the UK implement and upgrade their transaction monitoring and customer screening automation tools. From rules based on risk profiles to compliance reporting, Colin uses his extensive knowledge Jade ThirdEye and the AML landscape, working directly with customers of all shapes and sizes to help them achieve the best outcomes with their automation tools. He is also responsible for engaging with customers and defining new capabilities that continuously add more value to the Jade ThirdEye product.