Jade ThirdEye

launches a

utomated AUSTRAC IFTI

r

eporting,

reducing the r

isks

of

n

on-

c

ompliance

for Australian reporting entities
Jade ThirdEye is a cost-effective solution that helps reporting entities simplify their AML compliance efforts and fight financial crime. Because we're deeply committed to providing the best tools, we're always looking for ways to automate lengthy processes so AML compliance teams can focus on what really matters.
One of the ways we do this is through our Prescribed Reports feature, which enables automated reporting for large cash transactions and international funds transfers.
Our New Zealand customers can already have their reports automatically submitted to the FIU. Today we're excited to announce automated reporting to AUSTRAC for Australia. Now Australian businesses can use Jade ThirdEye to automate their workflows for submitting International Funds Transfer Instruction (IFTI) reports to AUSTRAC.
Save time and reduce

the

risk

s

of non-compliance
Automated AUSTRAC IFTI reporting helps businesses submit reports reliably and on time. Jade ThirdEye helps you do this by automatically detecting transactions that need to be reported and submitted directly to AUSTRAC. Reporting entities can then choose to submit these reports automatically or with a simple click of a button once they've reviewed the prepopulated reports.
Automatically Identify IFTIs
When data is loaded into Jade ThirdEye, IFTIs are automatically identified based on the rules you set up before and after you start using the product. The Prescribed Reports screen shows you a list of international transfers, including valuable information such as:
Transaction age

,

which is

essential

for submitting IFTIs on time to AUSTRAC. If the report is overdue

for submission

,

an exclamation ! icon

displays beside

the transaction age.

Status, which shows where the

report is at.


Automated Reports
When Jade ThirdEye creates a prescribed report, it uses all the data available to automatically prepopulate the report for you. It highlights any missing data in red, making it easy for you to just address what's missing. Your AML compliance officer then simply fills in these fields and hits submit to send the report to AUSTRAC electronically. As an extra safety measure, you can also set up your reporting workflow to require a review and approval before submission.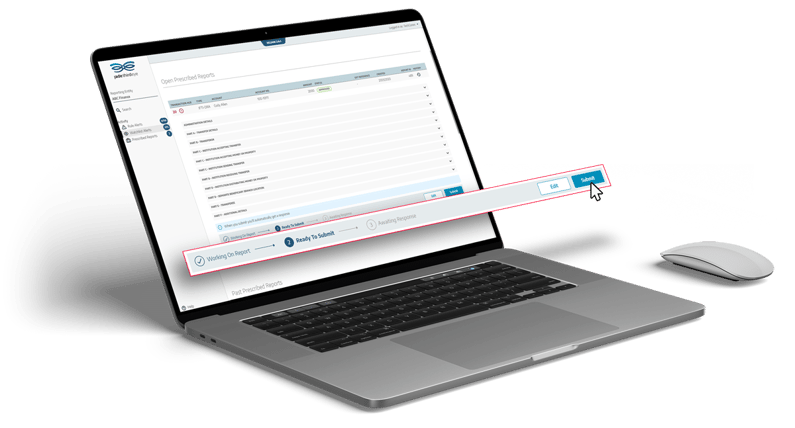 If
AUSTRAC accepts your report
,
you're done
.
If they reject it
,
Jade ThirdEye will reopen the report
and make
it
available
for
edit
ing
.
Submitted reports are stored in Jade ThirdEye, along with useful information like external AUSTRAC reference numbers in case you need to access this information in the future.

Helping you comply with confidence
All AML reporting entities have ongoing reporting obligations. According to Australian regulations:

As a reporting entity you must report certain transactions and suspicious matters, and submit compliance reports to AUSTRAC. Everyone, including reporting entities, must report cross-border movements of physical currency. Reporting entities must submit international funds transfer instruction reports (IFTIs) for transfers of funds of any value into or out of Australia, made either electronically or under a designated remittance arrangement. IFTIs are due within 10 business days after the transfer instruction is sent or received. If a business makes an IFTI, they must submit an IFTI report to AUSTRAC within 10 days.
Jade ThirdEye is here to help reporting entities confidently comply with the regulations. This new AUSTRAC feature gives you greater assurance that you and your team are fulfilling your key compliance obligations, and with less time and effort.
GET STARTED WITH AUTOMATED AUSTRAC IFTI REPORTING
If you're already using Jade ThirdEye, you can start saving time with automated reporting today! If you're new to Jade ThirdEye, sign up for a free demo to find out how you can save time and reduce stress.
Request a demo here