This week we're thrilled to deliver the latest release of Jade ThirdEye, with Version 2.16 now available to all our customers.
Of course every software release is the accumulation of many hours of blood, sweat, and tears on the part of product teams who take feedback from customers on board; the user experience team and developers who work to convert specifications into tangible, intuitive features; and the testing and support teams who verify that everything is working as expected before the release is rolled out to our customers.
Here at Jade we're always proud to ship a new release, and we take time in-house to formally acknowledge all the teams that have worked together to get the release out the door.
But we're equally proud that a number of the new features in this release are the direct result of our customer suggestion portal, IRIS. This is where customers can add ideas for any feature they'd like to see in Jade ThirdEye and vote for their preferred ideas from the existing list of suggestions. This enables us to make sure our product stays true to customer needs and addresses any frustrations.
So, let's power ahead to see what the latest version of Jade ThirdEye offers customers ...
A dashboard with dynamic graphs
In the new interface you can immediately see what you need to focus on with the new dynamic dashboard. And from here you can click through to the specific area of the product you want to work in, which makes it easy to prioritise your most important tasks.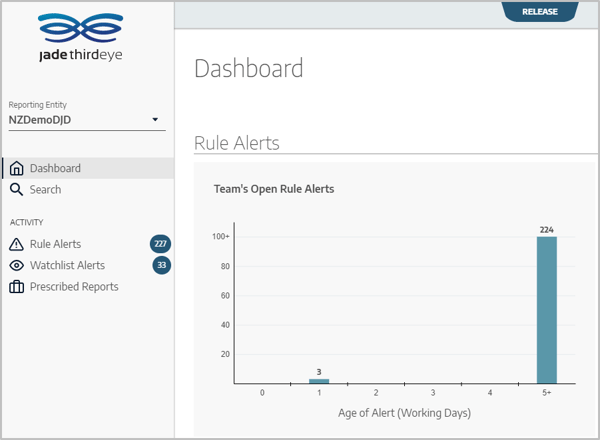 Enhanced workflow for alerts
Based on customer feedback, we've consolidated more information about customers and accounts on the customer screen so all the information you need to build a picture of a customer is in one place. This makes it quicker to review information and make informed decisions about potentially suspicious behaviour.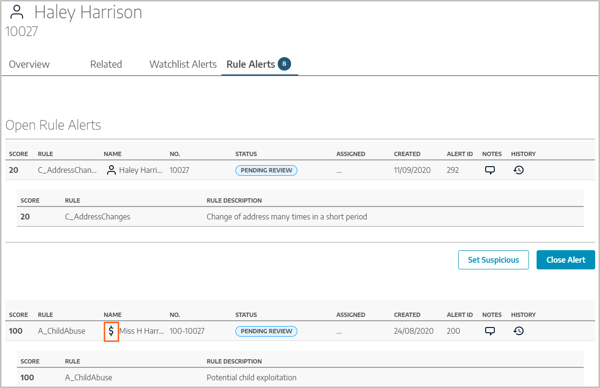 There's also a new capability to filter watchlist alerts by the type of screening that generated them, which makes it even easier to review and identify the critical next steps required.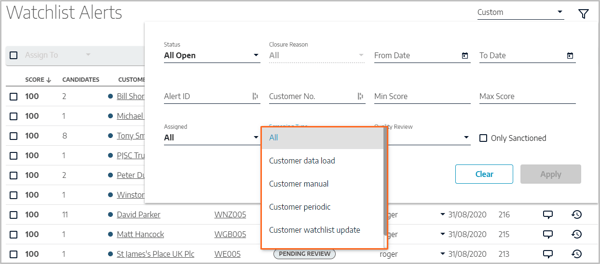 Streamlining data entry for prescribed reports
For our Australian customers who benefit from automated prescribed reporting, we've enhanced the layout of IFTIs and TTRs. It's now easier to immediately identify any missing data before the reports go to AUSTRAC.
Data Ingestion API
Some of our customers expressed a need to ingest their customer data more than four times a day. Others let us know they'd like system-to-system integration. To meet these needs, we've built a Data Ingestion Application Programming Interface that enables up-to-the-minute customer screening. Get in touch with the Support team if you'd like to know more about how this API can help you meet your screening requirements.
---
We hope you enjoy using the latest version of Jade ThirdEye! If you're a customer and you have any feedback or ideas for us, please share them in IRIS.
Not a customer? We're always happy to talk about how our customers are streamlining their AML programmes to reduce stress and comply with AML regulations. Get in touch and we'll schedule some time to talk!
Get In Touch